In Memory
Col. Herbert Laird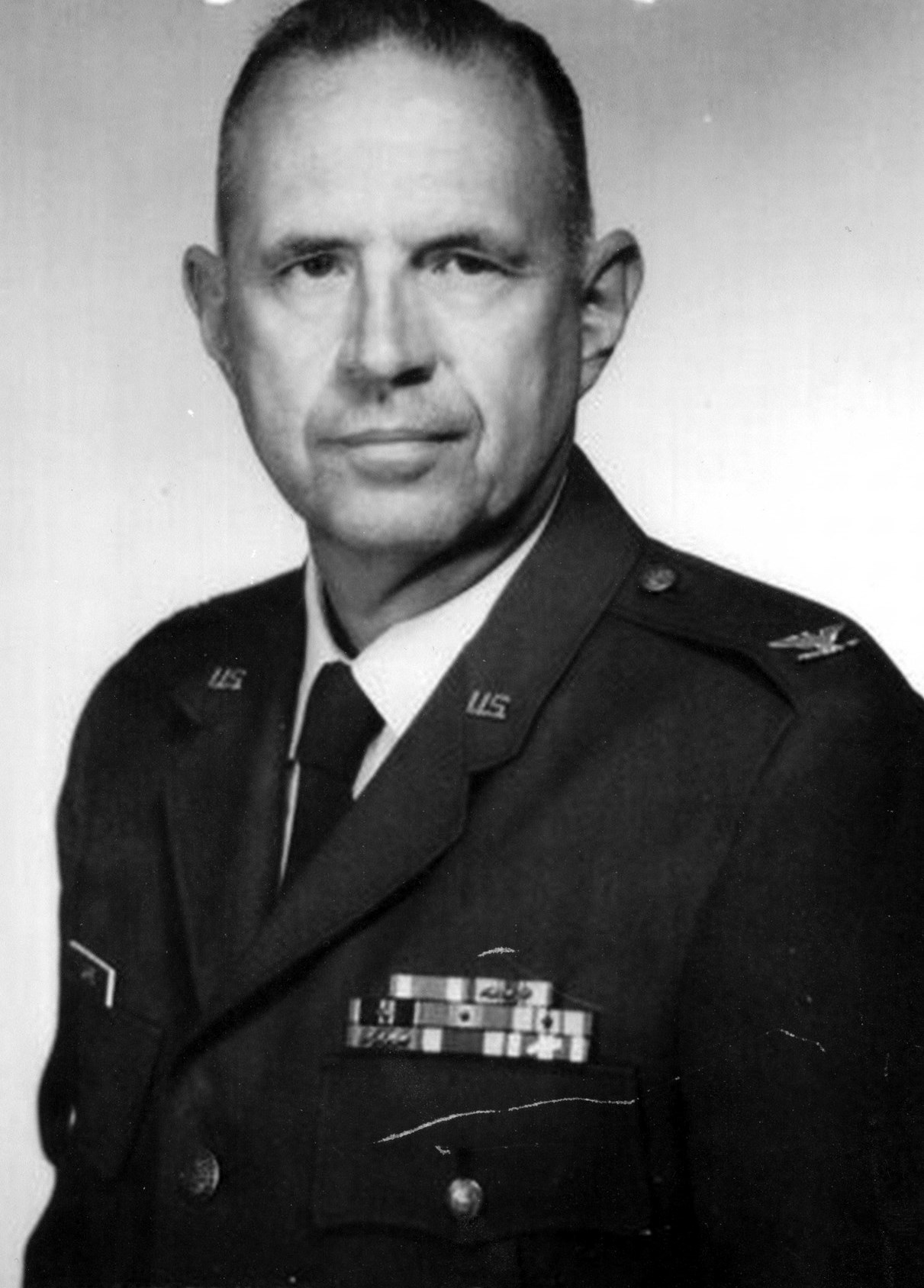 Colonel Herbert Laird (USAF, Retired)
Dad passed away peacefully on Dec 19th, at home to reunite eternally with our mother Marcella, and to enter into everlasting rest with our heavenly Father. His stoicism and strength while enduring the effects of Parkinson's disease, spinal stenosis and finally congestive heart failure will forever remain a legacy for his family. Herb was born on 17 July 1929, in Defuniak Springs, FL. The second youngest of eight children, he was born and raised on a farm during the height of the depression years where it was a struggle every day. Dad graduated from the University of Florida and was the only member of his family to earn a degree. There he learned to waltz, acquired a love of classical music, and later, pledged the Delta Chi fraternity. In 1951, he joined the Army National Guard in preparation for his commissioning as a second Lieutenant in the United States Air Force in 1953. It was during this his first assignment to Amarillo Air Force Base TX that he met our mom at an officer's club dance. Their love quickly blossomed and they soon married on December 12, 1954. Over the course of the next nine years, Mom and Dad produced their version of the "Brady Bunch" by having six children of superior intellectual and physical prowess: Brandt, Marissa, Mikey, Carlos, Steve and Judy. During his 26 year military career, Dad was transferred to Germany, Taiwan, Thailand, and the Philippines as well as 13 other locations within the US and Guam. His career highlights was as Chief, Security Police at the biggest air force base in the world (Clark AFB, Philippines). He became a legend in the security police career field when he was sent to Minot Air Force Base, ND, in 1975 following severe race riots to assume command of the Security Police Group providing security and law-enforcement for nuclear laden bombers, fighter aircraft, tankers and nuclear missile sites. Upon his retirement in 1979, Dad attended the University of Texas and earned a real estate license where he was an agent for over 15 years. In 1995, Mom passed away from cancer and dad found himself alone. After a few lonely breakfasts, he started to meet other people dining alone, and soon the breakfast group grew in numbers and diversity. This "breakfast club" still meets to this day. He also recognized that staying mentally and physically active was instrumental to his longevity and he acted on this knowledge by learning to play the piano, taking violin lessons, and attending opera and symphonic concerts on a regular basis. He also frequented senior living centers where he read books to the elderly and infirmed and, on at least one occasion played Santa Claus at a local elementary school. But the real source for his long and active life was developing relationships with great friends and neighbors. In addition, to the "breakfast club" he was so fortunate to have long time friendships with Pat and Carol, Tim and Janee, Paul and Milly, Lisa and Charles, Fr. Johnson, and especially Carmen. During his last couple years it was his daughter-in-law, Janet, who was there for his health needs night and day providing him spiritual solace, loving care, and tender words so he could remain at home as long as possible. Dad is survived by his "Brady Bunch" children and their spouses: Brandt and Janet, Marissa and Mike Martinez, Mikey and John Hoeven, Carlos, Steve and Susan, Judy and Mike Curtis, 12 grandchildren, and two great grandchildren. His generosity, intelligence, and strong character will be sorely missed by his family and friends.
The wake will be held, Sunday, December 28, 2014 at Cook-Walden/Forest Oaks Funeral Home, from 5:00 pm to 7:00 pm, followed by a recitation of the Holy Rosary at 7:00 pm.
Funeral Services will be held Monday, December 29, 2014 at 11:30 am at St Catherine's of Siena Catholic Church, 4800 Convict Hill Rd, Austin, TX. There will be a military internment at Cook-Walden/Forest Oaks Memorial Park. A reception will follow at Waterloo Ice House, Circle C Ranch at 12:30 pm. Condolences may be made by visiting www.cookwaldenforestoaks.com.